Preliminary Roadmap to a Cloud Market Structure Encouraging Pricing Transparency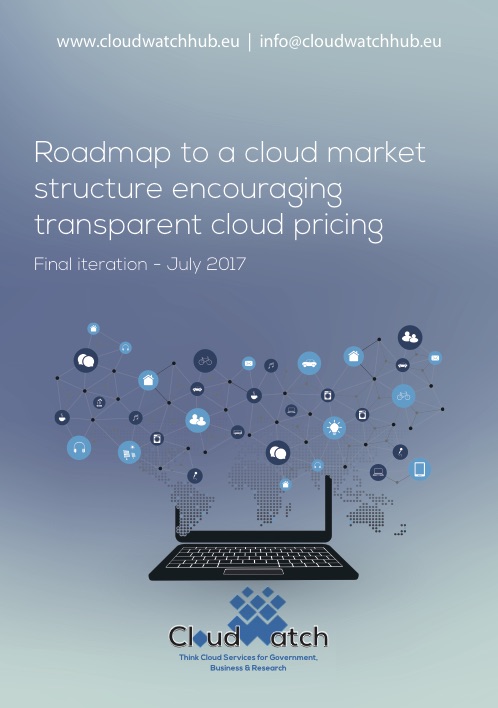 A stable and transparent cloud market is essential if uptake of cloud services is to blossom. End consumers, potentially hundreds of millions of Europeans that access services over the Internet, indirectly benefit from a stable and resilient market. Governments backing 'cloud first' policies are more likely to fund projects that can procure cloud resources easily, on pricing that is transparently competitive. Finally, cloud vendors benefit from increased uptake of their services due to increased trust in the market as a result of transparency and resilience.
Due to growing critical dependence on this infrastructure – the public cloud resources that underpin the Digital Single Market – it is necessary to understand measures that improve market transparency and resilience. The CloudWATCH Roadmap highlights the systemic risks developing in the Infrastructure as a Service market that are noteworthy to stakeholders seeking to shape policies for a fair, transparent and resilient cloud market. This document outlines how the cloud computing market is structured, why it is essential for Europe and the types of activities necessary to create a complete market.
CloudWATCH Cloud Market Roadmap First Iteration, April 2016
In April 2016, we published a Preliminary Version of this Roadmap, highlighting a number of risks to the global cloud computing market and hence to the digital economies that rely upon its on-demand computing capabilities. At that time, it was very unclear as to whether the market structure would evolve into a healthy, sophisticated market that encourages competition, or if its evolution would stall as a result of the dominant providers protecting their interests.
CloudWATCH Cloud Market Roadmap Final Iteration, July 2017
The Final Version of the roadmap charts how the cloud computing market has changed in the last 14 months. With a foreword from Pierre Chastanet, Acting Head of the European Commission's Unit E2 Cloud & Sofwtare Services, this document makes recommendations to key stakeholders for actions to mitigate risks of market failure, and deliver a stable cloud computing market.
We are pleased to report in this Final Version that many of the risks we identified in the Preliminary Version are reducing, and others are being mitigated with sensible strategies.  The most promising of all is the maturity of the support offered to the ecosystem of cloud intermediaries, i.e. cloud resellers and managed service providers, that provide diverse and competitive ways for cloud buyers to procure cloud services based on the dominant cloud providers as well as aggregating the buying power of numerous, diverse cloud users and using that to protect their interests
The structure of the Infrastructure-as-a-Service base layer of the cloud market is maturing rapidly, and in general this is leading at least to rational pricing, if not full transparency in pricing, as a result of inherent difficulties in making like-for-like technology migrations or even just comparisons. Again, specialist intermediators acting as "cloud suppliers" have the motivation and the expertise to analyse and compare the multitude of wholesale IaaS product offerings in support of their end-user customers.
There is now a market that has evolved, without significant regulatory intervention, to look not dissimilar to sophisticated, regulated markets such as electricity.