Adservio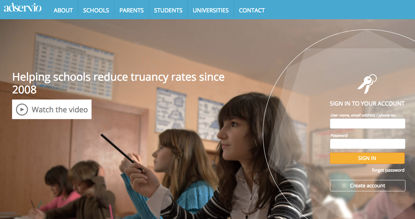 Adservio is an organisation that develops educational technology software, web apps.
Adservio is a digital platform dedicated to integrate all stakeholders into a one-stop shop Cloud-based solution for schools. It is capable of organizing and centralizing all school information, turning them into easy-to-use assets for parents, teachers, departments of education and governmental bodies. 
Addressing everything from online grading, attendance management, engagement analysis across the curriculum, direct communication between all parties and big data collection, Adservio unifies information locally, district wide and nationally.
It was founded in 2008 and has grown constantly ever since, reaching a total of 26 schools in 2015, in Iasi and Bucharest, the capital of the country. Its founder, Alexandru Holicov, has presented the evolution of the platform – created by young computer specialists - from an electronic register of grades and academic evolution to a complex tool which has contributed to a better communication among parents, teachers and students, to improved results and a significant drop of truancy, as well as to new approaches in teaching and learning. 
Description:
The case study illustrates how such a platform and Cloud Computing can eliminate bureaucracy and make communication among different parties easier (parents, students, teachers). It contributes largely to better management, transparency and increases the confidence of parents and pupils in the educational process. It also provides all parties involved with the possibility to access the platform from any electronic device (computer, laptop, mobile phone, tablet) and thus to be kept up to date or make any inquiry that seems necessary. For teachers, this aspect is particularly helpful as they have the possibility to register all grades and write a feedback anytime they want from any place/device that has an Internet connection.
Another advantage is related to the possibility of sending projects, homework, presentations to teachers and receive the materials graded, as well as a feedback concerning the quality of the work along with useful recommendations. It saves time, materials (such as paper) and makes the whole collaboration easier and closer to a familiar environment for students.
The system provides all users with access to a free library (containing classical literature) that can be read online or downloaded and to a list of the most recent publications that can be ordered directly from the platform.
Learning has become easier and more fun as the system offers the opportunity to relate to one's peers and exchange ideas and information. All the activity, files and projects one has (teacher, student etc) are stocked in the cloud related to the platform.
Teaching has become a more dynamic process as any materials available online can be quickly forwarded to students and used in the learning process. 
More details:
So far, each year has brought improvements of the platform as to the organization of the information stocked and to the dynamic of communication. The system is now available for everyone from anywhere, from any electronic device, provided there is access to Internet.
All the statistics, reports required by the school management or structures of the Ministry of Education are now generated automatically based on the data stocked in the system – which makes a certain number of tasks easier for teachers, on the one hand, and transparent for the community and official bodies on the other hand.
Thanks to this platform, parents and students are better informed. Results during the academic year as well as at the national exams have improved. Parents, students, teachers are much more involved in the educational process. The directors of the school have also access to all the data (concerning all the activities) from anywhere anytime through Internet.
Security is an important aspect of the platform. No breaches have been recorded so far. 
Other Information:
Due to the transparency and rapidity in communication, the students' average has improved, in some cases, with one point per class.
The Adservio platform has allowed schools to maximise their resources. For now, a parallel printed register for grades is still necessary, but by the end of 2016 it will be replaced by a printed version of the data stocked on the platform.
Integrating technology in learning and communication has brought schools and their community closer, especially now when every parent or student has a mobile device connected to Internet.
A range of resources including research, case studies, library etc. are all available.
The platform has a special section destined to news from fields like education, psychology, careers, which are useful for students, parents and teachers alike.
All the data from previous years (students' names, grades, message archive, personal achievements recorded in personal files, presentations etc) is kept on hand and is easy to access by any teacher, by the directors as well as by former students. 
Conclusions:
The case study illustrates the necessity of having technology in schools, as part of the communication and of the learning and teaching process. It proves that such platforms are highly successful and lead to improved results and higher confidence among partners in the educational system. For students, having such a platform is making school be a real part of their lives and their familiar environment.
So far, Adservio which recommends itself as a social innovation, is the most complex and reliable application used in education in Romania that has proved over the last years its advantages and usefulness.