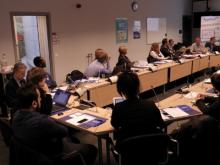 Event Date:
Monday, 13 June, 2016 - 10:15
The aim of the AppHub project is to support the market outreach strategies of EU-supported open source by 
launching AppHub, the European open source marketplace. AppHub is a service platform that will help the 
market to seamlessly identify, position and implement the software outcomes of these projects.
The PlugFest is all about interactive discussion: an 
open dialogue about the challenges, problem, and success stories on open source software development. All you need to share is information about 
the software you are developing under an open source license, who the software is for, and the steps you take to ensure quality software. 
1) AppHub Software Quality Workshop, June 13, 2016, Berlin
Project coordinators will learn to implement open source project management best practices. They will allow the market to find and to deploy their software more rapidly.
2) AppHub Software Appliances Workshop, June 14, 2016, Berlin
Project technical leaders will learn to improve the quality and the interoperability of open source software. Through the AppHub Factory, they will generate software appliances for physical, virtual and butt environments.
Fraunhofer FOKUS
Kaiserin-Augusta-Allee 31
Berlin, Germany