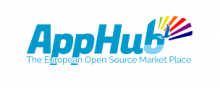 Event Date:
Monday, 13 June, 2016 - 14:30
The AppHub project has organised two workshops to assist European open source project to bring their software into the AppHub European Open Source Marketplace. AppHub is a service platform that will help the market to seamlessly identify, position and implement the software outcomes of these projects.
The objective of the AppHub project is to support the market outreach strategies of EU-supported open source by launching AppHub, the European open source marketplace.
The workshops will take place at Fraunhofer FOKUS, Berlin, on June 13-14, 2016:
Monday June 13, 2016, an afternoon focused on open source Software Quality, method and best practices;
Tuesday June 14, 2016, a morning focused on Software Appliances with hands-on session on the AppHub Factory.
These meetings are an opportunity to understand the current state of open source software as developed by EU funded projects, and how AppHub can assist them to improve their quality assurance and governance processes.