ASCETIC - Adapting service life-cycle towards efficient clouds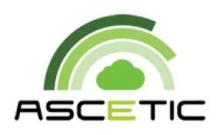 Focus: Identifying the missing functionalities to support energy efficiency across all cloud layers. ASCETIC defines and integrates explicit measures of energy and ecological requirements into the cloud application design, development and operation process.
Coordinator: Atos, Spain
Partnership: University of Leeds, UK; Technical University Berlin, Germany; Barcelona Supercomputing Center, Spain; Hewlett Packard Italy; Athens University of Economics and Business – Research Center, Greece; CETIC, Belgium; Athens Technology Center SA, Greece; GreenPrefab srl, Italy.
Case studies: NewsAsset, a storage intensive application offering an end-to-end multimedia cross-channel solution for news agencies, broadcasters and publishers. GreenPrefab, a CPU intensive application focusing on a product life-cycle management system for the design and construction of new-generation prefabricated buildings.
Impact: Providing novel ways and tools to support software developers in monitoring the carbon footprint of their applications and in optimising total energy efficiency while maintaining quality levels.
Funding: European Commission, DG Connect, Software & Services, Cloud. 7th Framework Programme. FP7 ICT Call 10.
Position Paper: http://www.cloudwatchhub.eu/concertation-position-papers/ascetic-adapting-service-lifecycle-towards-efficient-clouds
Website: www.ascetic-project.eu