BIGFOOT – Big data analytics for digital footprints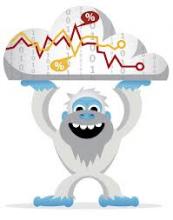 Focus: Design, implement and deploy a Platform as a Service solution for processing and interacting with large volumes of data coming from ICT security, smart grid and other application areas. The BIGFOOT stack builds on and contributes to the Apache Hadoop ecosystem and the Apace OpenStack project.
Coordinator: EURECOM, France
Partnership: Ecole Polytechnique Federale de Lausanne, Switzerland; Technical University Berlin, Germany; Symantec Lab, Ireland; GridPocket SAS, France.
Impact: High-quality research, such as measurement-based analyses of typical workloads from real-world applications and data; open-source software, building on the Apache Hadoop ecosystem and the Apache OpenStack project; experimental platforms, contributing to Symantec's WINE initiative, where it is going to be deployed as a PaaS and to GridPocket's energy services platform.
Funding: European Commission, DG Connect, 7th Framework Programme - FP7 ICT Call 8.
Position Paper: http://www.cloudwatchhub.eu/concertation-position-papers/bigfoot-big-data-analytics-digital-footprints
Website: www.bigfootproject.eu