Cloud Catalyst – Reenergise productivity, efficiency and competitiveness of European economy through cloud computing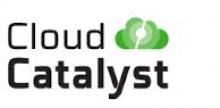 Focus: Providing useful tools to foster the adoption of cloud computing in Europe. Cloud Catalyst will set up a cross-border advice and support service, helping to strengthen Europe's position in the cloud computing market, including both the European business software industry and individual citizens and consumers.
Coordinator: Portugal Telecom
Partnership: Universidad Complutense de Madrid, Spain; Si-Mobil, Slovenia; EuroCloud, Luxembourg (headquarters); UPTEC, Portugal.
Impact: Facilitating the development and deployment of new cloud computing services with a focus on sustainability. Unleashing huge opportunities for the ICT industry and end users by delivering innovative services. This will help create a strong and enthusiastic community of cloud adopters and supporters across Europe.
Funding: European Commission, DG Connect, Software & Services, Cloud, 7th Framework Programme, FP7-ICT Call 10.
Position Paper: http://www.cloudwatchhub.eu/concertation-position-papers/cloudcatalyst-tools-accelerate-cloud-adoption-europe
Website: www.cloudcatalyst.eu