Cloud Computing: An agent for ICT energy efficiency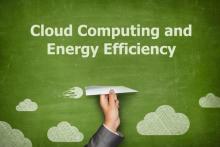 The IT energy crisis is upon us. Information and communication technologies (ICT) account for 8-10% of the European Union's electricity consumption and up to 4% of its carbon emissions! There is a pressing need for the European ICT to take a leading role in energy efficiency to become more sustainable, reduce climate impact and achieve competitive advantages, such as costs reduction. Indeed, by becoming more efficient and decreasing just 15% of its emissions, the ICT sector can save over EUR 600 billion thanks to energy efficiency in 2020, according to The Climate Group.
So what role can have cloud computing on the quest for greater energy efficiency, you may ask. Well, despite Cloud Computing providing clear higher levels of energy efficienc, there is still room for improvement.  
A number of European research projects funded under the European Commission's Horizon 2020 programme are proactively finding solutions to improve energy efficiency in cloud computing. With an eye on the future market, the projects provide cutting-edge technologies that can facilitate innovation and at the same time save energy.
To avoid low levels of energy efficiency due to overprovisioning cloud services to accommodate peaks in demand, the Cloud Lightning (http://cloudlightning.eu/) project provides a solution which will let cloud consumers and service providers to specify their necessary workflows and timelines. This is possible thanks to a self-managing automatic & intelligent system that allocates an optimal resource allocation, allowing higher levels of energy efficiency.
CYCLONE (http://www.cyclone-project.eu/) provides components to a multi-cloud environment, enabling the distribution of computing resources to collect measurement data of energy generation & consumption all over the grid. This can become a new unified way to manage a multi-cloud environment of the future energy sector.
Want to reduce the size of your Virtual Machine (VM) to get higher utilisation efficiency at a lower operational cost? ENTICE (http://www.entice-project.eu/) helps industry, academia and business to effectively use cloud resources and virtualised environments for their computing needs, especially on VM image deployment (e.g reduce image delivery time by 30%). The result is faster processing, less reliance on the technology and less consumption of energy.
And what about the Future Internet? INPUT (http://www.input-project.eu) is creating a new architecture that moves cloud services much closer to the end-users and smart-devices. The benefits? More personal cloud services, replace physical smart devices and achieve higher levels of energy efficiency, assuring an important reduction of the carbon footprint of the ICT sector. How is this possible? By hosting virtual images from end-user devices (SD cards from set-top-boxes, video recorders etc) on much more energy-efficient network infrastructures.
RAPID (http://rapid-project.eu/) allows many low-power devices such as smartphones, tablets, notebooks to process modern applications in gaming, vision, security, robotics, aerospace (e.g video editing, navigation etc) thanks to high-performance accelerators and high-bandwidth networks. Beforehand, these applications, which require tremendous performance, could not run in most existing battery operated devices, due to the lack of high-end servers.
Cloud Computing can have a major role in energy efficiency on overall ICT sector. There are endless possibilities, to help almost 50% of European ICT companies that use cloud computing services become more ICT efficient.
Cloud Computing can have a great impact in a sustainable ICT sector and these H2020 projects are working to have a loud voice on the topic. The future is promising and the audience will testify this exciting path.