Cloud for Europe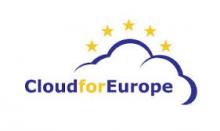 Focus: In support of the European Cloud Partnership, enabling the public sector to implement well-defined cloud computing strategies. Supported by stakeholders from both the public and private sectors, Cloud for Europe aims to remove the obstacles to cloud adoption and provide the conditions for a digital single market for cloud computing in Europe.
Coordinator: Fraunhofer FOKUS, Germany
Partnership: Federal Computing Centre, Austria; Graz University of Technology, Austria; Secure Information Technology Center (A-SIT), Austria; European Electronic Messaging association (EEMA), Belgium; Information and Communication Technology Federal Public Service (FEDICT), Belgium; KU Leuven, Belgium; e-Governance Academy, Estonia; Ministry of Economic Affairs and Communications, Estonia; Ministry of Finance, Finland; Federal Office for Information Security, Germany; the Israel-Europe R&D Directorate, Israel; Ministry of Finance, Israel; Agency for a Digital Italy, Italy; Trento RISE, Italy; Ministry of Economic Affairs, the Netherlands; Ministry of Finance, Tax and Customs Administration, the Netherlands; Agency for Administrative Modernisation, Portugal; Association CCG/ZGDV – Center for Computer Graphics, Portugal; Institute for Systems and Computer Engineering: Research and Development (INESC-ID), Portugal; Shared Services Entity for the Public Administration, Portugal; University of Porto, Portugal; Ministry of the Interior, Slovenia; Ministry of Finance and Public Administrations, Spain; Scientific and Technological Research Council, Turkey.
Impact: Give a clear view on public sector requirements and usage scenarios for cloud computing, by identifying road blocks impeding adoption; defining services currently hindered and procuring research from businesses to find innovative solutions for cloud services. Addressing the objectives of the European Cloud Partnership and helping partners adopt a well-defined European cloud strategy for the public sector.
Funding: European Commission, DG Connect, Software & Services, Cloud, 7th Framework Programme - FP7 ICT Call 10.
Position Paper: http://www.cloudwatchhub.eu/concertation-position-papers/cloud-europe-cloud-adoption-public-sector
Website: www.cloudforeurope.eu