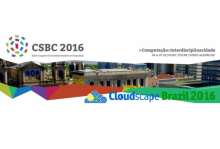 Event Date:
Tuesday, 5 July, 2016 - 08:30
Cloudscape Brazil
, now in its third edition, aims to envision the future development of cloud in Brazil and Europe, photographing the state-of-the-art of cloud market, the challenges that slowing widespread adoption of cloud services and best practices to solve this issues.
Cloudscape Brazil is a platform that brings together European and Brazilian stakeholders from industry and research centres.
Cloudscape Brazil was born to create a permanent platform that promotes excellence in the areas of cloud computing, Big Data and the Internet of Things (IoT), in Europe and in Brazil, exploiting the cloud model, and encouraging the use of standardized models for cloud SLAs to facilitate the comparison between cloud services and the adoption.
The objective of the platform is to promote novel tools to support European & Brazilian SMEs & Start-ups to use cloud computing in a more efficient way, and make them better informed around data protection, security & legal issues.
CloudWATCH will be present with a KNS and the position paper "Helping cloud service customers become security-savvy through risk management profiling".
Conference details
Cloudscape Brazil is organized by EUBrasilCloudFORUM together with the WCN: Workshop on Cloud Networks. The two events are jointly organized and the agendas complement with attention to research, industry and policy topics around cloud computing. Participation at both events is highly welcome, registration can be found here
Venue
Av. Ipiranga, 6681 - Prédio 41- Partenon
Porto Alegre/RS - CEP: 90619-900