CloudWATCH Summit Agenda is now online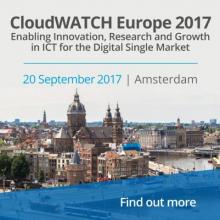 CloudWATCH Summit workshop it's a free of charge event that will held at TQ in Amsterdam on 20th September 2017.
It will bring together policymakers, SMEs and start-ups to understand how cloud computing is an enabler of innovation, growth and jobs in the Digital Single Market.
During this one-day workshop, CloudWATCH will hear from pioneering SMEs, industry leaders and policy experts on how the European cloud computing market will be shaped in Europe over the next 3 years. You'll find out about essential trusted and interoperable services meeting the needs of both the supply and demand side. You can also access essential guidance on issues of compliance and risk management.
The CloudWatch Europe summit aims to deliver answers to questions you can't find online, meeting the experts shaping the cloud market of tomorrow.
Have a look now at the agenda and discover our speakers.