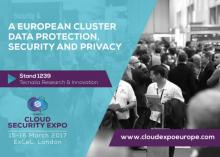 Event Date:
Wednesday, 15 March, 2017 - 09:00
CloudWATCH2 is taking part in Cloud Security Expo 2017,15-16th March 2017, ExCeL, London.
CloudWATCH2 offers a pan-European cloud observatory for the EU internal market, helping build trust in cloud computing , thus facilitating adoption. CloudWATCH2 will be showcasing its free tools and guides available on the website to help SMEs, Public Authorities and R&D initiatives to strategically plan their use of cloud services increasing benefits, lowering risk and maximising security.
Stand 1239 is jointly hosted by the EC's Data Protection, Security and Privacy Cluster (DPSP), an initiative that brings together European projects working on cloud security and privacy. CloudWATCH2 will be flanked by another 7 peer projects in the Cluster to demonstrate reinforced European leadership in cloud computing with a focus on enhanced security and privacy, boosting trust and confidence of consumers, as well as public and private sector organisations.
All the projects at the stand are part of the EC's Cluster on Data Protection, Security and Privacy (DPSP), which works together on challenges related to the Free Flow of Data for the European Digital Single Market. The other projects that will be represented at the stand are:
• CLARUS: A Framework for User-Centred Privacy and Security in the Cloud.
• CREDENTIAL: End-to-end security and improved privacy in cloud identity management services for managing secure access control.
• MUSA: Ensuring security in all multi-cloud environments; data confidentiality and localisation.
• OPERANDO: A platform offering comprehensive user privacy enforcement with Privacy Authority Online Service.
• PRISMACLOUD: Novel cryptographic concepts and methods for practical application to improve the security and privacy of cloud based services
• PAASWORD: Holistic Data Privacy and Security by Design Platform-as-a Service Framework
• SWITCH: Enabling the development and execution of time critical applications in Clouds.
The Expo also features multiple streams of content and cloud security and compliance case studies. On the 16th of March, the DPSP Cluster Workshop will share findings and services in the innovation stream under the topic of compliance, governance and cloud security strategies.
As part of the major, industry-backed Cloud Expo Europe event attracting business leaders and decision makers across organisations and sectors, Cloud Security Expo is an excellent venue for showcasing European research and innovation results.
·      Cloud Security Expo 15-16 March 2017. Stand 1239: Tecnalia Research & Innovation.
·      The DPSP Cluster Workshop, 16 March 2017, 12:45-13:10.
---
CloudWATCH2 Workshops
CloudWATCH2 will have an active role on Cloud Security Expo 2017 by organising and supporting 3 workshops, on 15th March, at South Gallery Suite SG25, for SMEs, Public Authorities and R&D initiatives to strategically plan their use of cloud services, while increasing benefits, lowering risk and maximising security. Workshops are open to all and free of charge.
CloudWATCH2 Workshops are a unique opportunity to get guidance on how to use cloud computing to get competitive advantages in organisations. 
15th March, South Gallery Suite SG25
10:30 - 11:50
SELECTING AND SWITCHING CLOUD SERVICE PROVIDERS: THE CHALLENGES
Digital Single Market and future multi-cloud environments require Cloud options be transparent and comparable, in order the consumer can get most out of the service combinations. We will discuss the challenges for acquiring legally usable service descriptions and for easily switching between services.
Speakers
Chair
Erkuden Velasco, Tecnalia
Panellists
Peter Matthews, CA.com; Dimitra Stefanatou, Arthur's Legal
---
14:00 - 14:50
ESSENTIALS TOWARDS A SECURE AND RESILIENT CLOUD FOR THE DIGITAL SINGLE MARKET
Reducing frictions between cloud buyers and sellers, and building trust in the Digital Single Market. We set the scene for a resilient cloud market, and discuss the value of services that lead to greater trust and uptake of cloud services.
Speakers
Chairs
Frank Sullivan, Strategic Blue
Speakers
Daniele Catteddu, Cloud Security Alliance
Erkuden Rios, Tecnalia
Steve Chambers, Cloud Pro
Sue Daley, TechUK
---
16:00 - 16:50
GDPR CLINIC - A STRATEGIC APPROACH FOR COMPLIANCE WITH THE EUROPEAN GENERAL DATA PROTECTION REGULATION
We will discuss in a practical and business oriented way the new provisions of the Regulation (EU) 2016/679.  There is a real shift from data protection comprised of policies to data protection made of procedures as companies have to translate data protection compliance directly into industry processes. Given this framework, you will learn more about how to set up a sound and effective corporate Data Protection Compliance Programme.
Speakers
Paolo Balboni & Nicola Franchetto, ICT Legal
---
16th March | Cloud Innovations Theatre
14:15 - 14:40
MARKET AND TECHNOLOGY READINESS LEVELS: YOUR PATH TO SUCCESS!
Why market readiness is important for your successful innovation launches.
Speakers
Chair
Frank Sullivan, Strategic Blue
Panellists
Michel Drescher, Oxford eResearch
Frank Bennet, Cloud industry forum