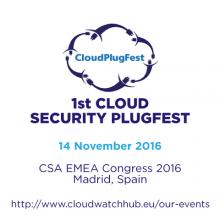 Event Date:
Monday, 14 November, 2016 - 11:00
Hotel Catalonia Gran Via - c/ Gran Via 7-9 (28013) Madrid, Spain
Meeting Room "Guell A"
The CloudWatch2 project is pleased to announce its cooperation with CSA to host, and organise the 1st Cloud Security Plugfest. The Cloud Security Plugfest is collocated with CSA EMEA Congress 2016* in Madrid, Spain, on 14 November 2016. Participation to the Cloud Plugfest is free of charge. 
What is a "plugfest", and what does it have to do with security?
In a nutshell, a plugfest is an event where stakeholders come together to find out whether and how well their projects use security standards. What are the most common standard implementation use cases and identified gaps in standards and recommendations for new standardization efforts.
As this is a Cloud Security Plugfest, we are going to focus on standards in that area, such as CSA OCF, EU's Data Protection Directive, ISO 19086, ISO 27001, ISO 27002, ISO 27017, ISO 27018, NIST SP500-292, NIST SP 800-144, etc.
Why should I participate?
Cloud Security Plugfest is a forum where executive assessment of standards adoption is performed with the objective to evaluate the policy readiness and not just technology readiness of projects. In too many cases unfortunately, privacy and security is an afterthought in the design process of the project, while security is an essential element of the European cloud marketplace development and its long-term sustainability.
Ideally, baseline security standards would be followed by all projects, and hence all implementations would provide the basis for risk-based decision-making mechanisms, but often enough that is very challenging to achieve, as technical soundness of implementations is too many times the prevalent criteria in cloud projects.
Plugfest Agenda
| | |
| --- | --- |
| 11:00-11:30 | Brief introduction and keynote on cloud security standards |
| 11:30-13:00 | Break-out groups focussing on specific security aspects |
| 13:00-13:45 | Lunch |
| 13:45-14:30 | Outcomes and next steps |
Register now - Registration for the CloudWATCH2 Cloud Plugfest is free of charge.
---
Want to join the CSA Congress EMEA too?
The CSA Congress EMEA experience includes:
Two-day conference with two parallel tracks covering the latest topics in cloud security.
CSA working groups and research workshops.
Training (Preliminary topics: CCSK, Cloud Control Matrix (CCM), STAR Certification).
Engaging social events and networking opportunities with peers and leaders in the industry.
CSA Congress EMEA will attract a unique mix of thoughts leaders, policy and decision makers representing the key industry players, cloud customers, (private and public buyers, global enterprise and SMEs) and the R&D community.
Register today and secure your spot for this year's event: https://csacongress.org/event/emea-congress-2016/#registration
Enjoy 20% discount for Plugfest participants with promo code: ECPlfCSA16.