Clouding SMEs - Acting as a catalyst for the accelerated and successful adoption of cloud computing by European SMEs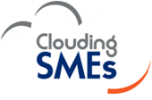 Topics recommended for the 2016-2017 Work Programme:
Awareness raising and training for SMEs, adapted toolboxes and creating trust and transparency will remain key issues for the take up of the cloud by SMEs as end users and to increase their competitiveness and innovation capacities. The 2016-2017 WP has to support this through follow-up programs on this. It should allow the development of a complete suite of support tools (like a "trip advisor" for SMEs wishing to adopt the cloud). At the supply side there is the need for differentiating innovative SME cloud vendors from giant vendors. The future WP should facilitate ICT SMEs to implement and deliver cloud innovations (e.g., new products and/or services) for specific niche markets. The WP should ideally use open calls processes, in order to allow organizing and involving the participation/selection of SMEs to implement new services based on a small amount funding.
Projects major results:
The project will specify a vision associated with the optimal adoption and use of cloud computing within SME communities, along with a set of roadmaps for realizing this vision. During the last months a set of SME requirements for cloud adoption has been produced. These requirements have been accordingly taken into account in the development of the project's SME-centric cloud computing vision, which includes ideas for the possible evolution of cloud infrastructures and related support services for SMEs. The main tangible achievement has been the creation of a prototype toolbox for SMEs (as it still has to be fine-tuned and tested), comprising a wide range of tools and techniques that will assist SMEs in their cloud related activities such as selection of cloud vendor/provider, conduction of techno-economic analysis, assessment of data protection issues, specifically structured expert's knowledge, online expert's advice and communication, successful confrontation of legal/contractual issues, negotiation of SLAs and more.
Potential exploitation strategy:
The project is using the experience of experts coming from stakeholders close to the SMEs, both end users and ITC suppliers. As such it is driven by players from both Cloud and SME communities. It is based on the exchange with and feedback from as much as possible SMEs and should give answers to the concrete problems SME owners daily encounter. The leading role of these stakeholders will guarantee the neutrality, transparency but also the sustainability of the project results. The project aims to understand and fully document the needs of SMEs in the field of cloud computing adoption but at the same time it develops a vision about the development of the cloud. The CloudingSMEs vision targets a wide range of aspects, including awareness and education about cloud computing, availability of one-shop-stop services, cost-effectiveness, openness, transparency, implementation of standards and regulations and more.
An update since the last Concertation meeting (March 2014):
The project has established direct relationships to the following EU Initiatives: Cloud Catalyst (http://www.cloudcatalyst.eu/) CloudWatchHub (http://www.cloudwatchhub.eu/) Cloud Catalyst is addressing a similar target group and the exchange of findings is relevant to build a common communication and support strategy towards SMEs. CloudWatch is scoping on standards and interoperability to address vendor-lockin issues and SLA management. EuroCloud as a project partner is actively involved in the relevant Cloud Expert Groups at ETSI, ENISA and DG Connect Cloud Select Industry Groups for certification, SLA and Code of Conduct. There is also an official Category C Liaison between ISO/IEC JTC 1/SC 38/WG 3 and EuroCloud. Participation in workshops organised by FP7 OCEAN.