Open-DAI: Opening Data Architectures and Infrastructures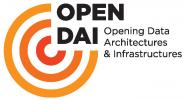 Topics recommended for the 2016-2017 Work Programme:
Data integration, data quality and automatic cleanin of data - linking real time data with big data tools to mix the data services with the capability to do predictive analisys or complex correlation. More orientation towards the integration of "out of the box tools" that offer a rich feature set instead of single product that try to cover all the needs without reaching the needed completeness, integration of these components into a scalable cloud environment fostering standard protocols and cloud deployability in particular in the IaaS context where a more standard approach is obtainable. Funding evolution of existing tools and not the creation of new ones.
Projects major results:
The level of integration of the different open source components allowed to deliver a complete and modular platform, wrapped with easy interfaces that allow both skilled technical users to benefit from "state of the art" software and non-technical ones to deploy new API services with little effort.
Potential exploitation strategy:
The project will become part of the commercial offering of two partners of the consortium, merged into a more global service offering for Open Data. The factors that sustain the project are the ease of installation of the platform and the ease of use of the API production pipeline even in consideration of the richness of features that the overall components offer. The project managed to wrap the complexity of different open source components under an umbrella of integreated functions.
An update since the last Concertation meeting (March 2014):
The Open-DAI project is becoming the starting point for the CloudOpting project as a model in the deployment of the platform. The project integrated with the HOMER project for the indexing of the metadata of API services.