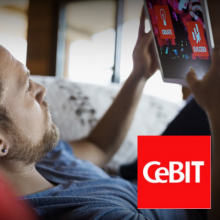 Event Date:
Monday, 20 March, 2017 - 09:00
How breakthroughs in computer science are enabling companies to apply new generation flexible systems to leverage the volume, variety and velocity of big data.
Organised by the EU ALIGNED Project, this workshop will describe real life business problems faced by an organisation and how the technologies developed within ALIGNED have helped turn these challenges into opportunities.
When & where: Monday March 20th, 10:00 – 14:00, CeBIT conference, Hannover Exhibition Grounds
Sectors covered: ICT, health, media, legal, publishing
Technologies: data quality analytics, semantic modelling, model-generated software
The workshop will encompass a range of different sectors: from managing hundreds of millions of clinical-trial results for the UK NHS; to drawing information from millions of complex legal documents to provide intelligent services for the legal profession; to one of the world's most ambitious attempts to crowd-source high-quality historical data. Each case will show how tools developed in the ALIGNED project are enabling large communities of users to leverage the value of their data.
The workshop will show how data quality, analytic tools can be used to apply automated quality control and error correction; how semantic modelling can be used to extract business intelligence from complex, interconnected, fast-changing datasets; and how these models can be used to help automate the production of software capable of processing large volumes of data.
The Aligned project brings together academia and industry, to transform the results of computer science research into practical tools to solve real world problems and help organisations leverage the great volume, variety and velocity of data available internally and through the web. ALIGNED is also part of CloudWATCH2 Service Offers Catalogue.
ALIGNED Consultancy Competition
The workshop includes a special competition offering 1-2 weeks of free consultancy services and training to the participant with the most interesting business problem, as part of the ALIGNED business consultancy program.
Complementary Refreshments and Lunch
Complimentary tea, coffee, soft drinks, snacks and a light lunch will be provided. 
Enquiries and More Information
Please direct further enquiries on the workshop to info@aligned-project.eu