EU Cloud Scout - Navigate your SME to the Cloud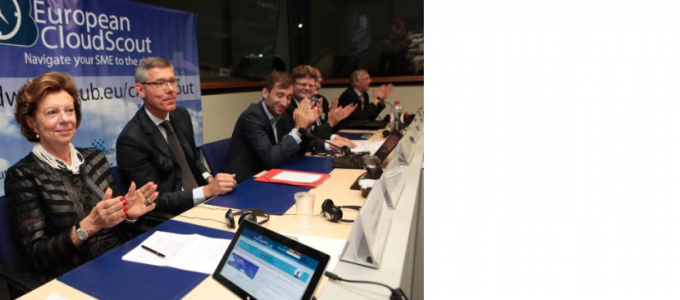 European Cloud Scout: SMEs to navigate to the cloud
10 July 2014, 10:30 - 12:00, Brussels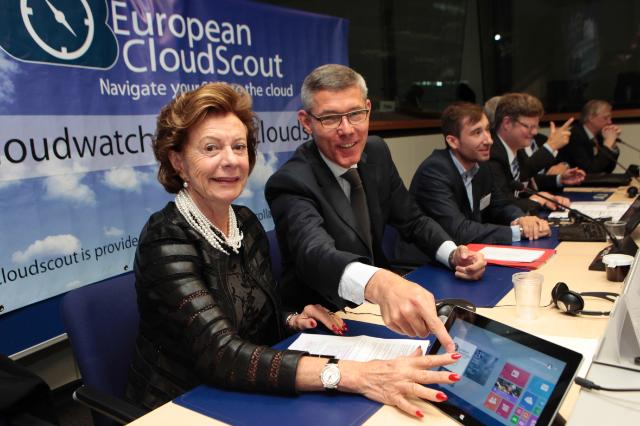 Today in Brussels the European Commissioner for the Digital Agenda, Neelie Kroes launched Cloud-Scout. Originally developed in Germany, this simple online tool provides European SMEs with tailored information and recommendations on their use of Cloud.
Over the last year Cloud Scout has been providing German SMEs with the information they need to understand the potential impact Cloud Computing can have on their business. Now the developers DsiN (Deutschland sicher im Netz) have come together with CloudWATCH to expandthe tool to be EU-wide with many improvements and added language support.
Cloud Scout is "a simple tool to give small businesses the information to decide on how to use the cloud: taking account of their legal, organisational and technical needs" said Neelie Kroes. The service is based around a straightforward online questionnaire that can be completed in around fifteen minutes. The information provided during the questionnaire allows Cloud-Scout to outline the legal, technical and organisational issues that come into play for the business.
The EU-wide version of Cloud Scout is the result of a collaboration between DsiN, Digital Europe, national trade associations around Europe and CloudWATCH. It will be hosted here on the CloudWATCH Hub. To ensure that the tool has as wide an audience as possible Cloud-Scout an EU-wide (English) version is available, as well as country specific versions for Austria, Belgium (French & Flemish), Finland, Germany, Hungary, Spain, United Kingdom. More will be published soon.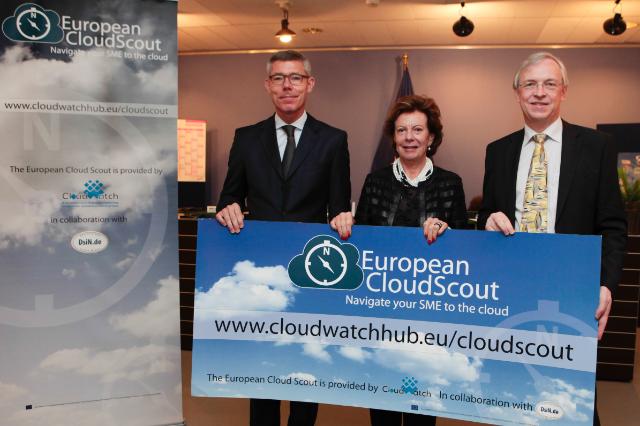 Neelie Kroes complimented CloudWATCH on it's key role in delivering Cloud Scout to a broader audience "Cloud Scout is very welcome. I encourage any other initiatives aligned with our cloud strategy to come forward too. Indeed the EU-funded CloudWatch project is actively promoting many of them: including Cloud Scout."
The launch today featured a demonstration of the Cloud-Scout alongside discussions and a keynote address from Neelie Kroes. Silvana Muscella, Trust-IT and coordinator of CloudWATCH is moderating the panel with SMEs to show in real-time the practical added value of Cloud Scout. "CloudWATCH is presented with the opportunity of contributing to the European ecosystem: to also support making SMEs life easier for them to fully enjoy the benfits of the cloud.CloudScout fits perfectly within the CloudWATCHhub.eu context."
You can follow the discussion on Twitter by using the #CloudScoutEU hashtag.
You can access Cloud-Scout from http://www.cloudwatchhub.eu/cloudscout and see the implications of Cloud Computing on your business.
Images courtesy of http://ec.europa.eu/avservices/photo/photoDetails.cfm?sitelang=en&ref=025927#0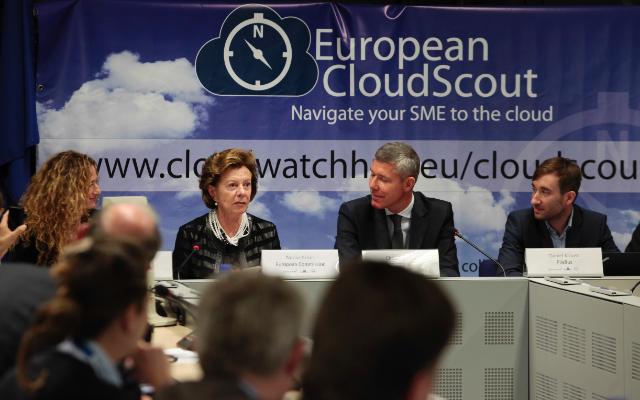 Workshop speakers
Opening Speech: Dr. Christian Illek, CEO DsiN e.V.
Keynote: Neelie Kroes, Vice President, European Commission
Prof. Dr. Udo Helmbrecht, ENISA
Sabine Verheyen, MEP
Rainer Zinow, SAP and DsiN
Alexander Philipp Mrzyk, von der Hardt
Jörg Hickethier, Colleon (SME)
Daniel Krauss, FlixBus (SME)
Peter Olson, President DIGITALEUROPE
Moderator: Silvana Muscella, CloudWATCH &Trust-IT Services (SME)    
Related articles:
Euractiv: in English, in French