HEADS – Heterogeneous and distributed services for the future computing consortium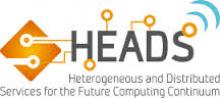 Focus: A software engineering initiative targeting Internet services whose logic and value emerges from a set of communicating software components distributed on a heterogeneous computing continuum, from clouds to mobile devices, sensors and/or smart objects.
Coordinator: SINTEF, Norway
Partnership: INRIA, France; Geographical Infrastructure Solutions Ltd, Ireland; Tellu AS, Norway; Software AG, Germany; Athens Technology Center, Greece
Impact: An integrated development environment supporting a domain specific modelling language and operational methodology for specification, validation, deployment and evolution of software-intensive services distributed across the future computing continuum. This will impact end user requirements and transform business markets, which will require companies to evolve existing products and services to fully exploit this continuum.
Funding: European Commission, DG Connect, Software & Services, Cloud, 7th Framework Programme, FP7-ICT Call 10.
Website: www.heads-project.eu