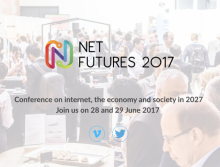 Event Date:
Wednesday, 28 June, 2017 - 10:00
Where: The Egg - Barastraat 175 Rue Bara, Bruxelles
What will our society look like in 2027? 
Registration is now open for the Net Futures Conference 2017 that will held in Brussels from the 28-29th of June 2017.
Net Futures is the annual conference promoted and organised by the Future Internet community of the European Commission and it has now become one of the most important research and policy conferences in Europe on the future of the web.
The theme of this year "Internet, the economy and society in 2027" intends to explore how internet will transform our society over the next 10 years.
Internet is one of the fastest and most effective enablers of change that has ever existed. European Citizens are ever more demanding of the net in terms of quality and  expect, in the coming years, an Internet that is more inclusive, open, attentive to security and privacy and that meets the different needs of individuals.
However, not all European policy actors share this sense of urgency for action. Nontheless, it is imperative to address these challenges or Europe's voice on the future of the Internet will disappear.
The NET FUTURES edition in 2017 will serve as a wake-up call for policy makers and technologists alike, for civil society and for the young whose future will also be influenced by these themes. The conference will provide a forum for deep-dive conversations and learning, right at a time when Europe is on the brink of entering the next industrial revolution: The Net.
For more information please visit the Net Future Programme page or register now here.