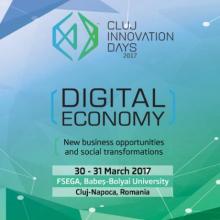 Event Date:
Friday, 31 March, 2017 - 16:30
Where: FSEGA, Babes-Bolyai University - Teodor Mihali Street number 58-60, Cluj-Napoca, Romania
Leading specialists representing various organizations in fields such as medicine, public administration and education, gathered in Cluj-Napoca for two days, from March 31 to April 1, for the 4th edition of Cluj Innovation Days "New Business opportunity and social transformation", an event of Cluj IT.
Having a positive outlook on what the future holds for us in terms of barriers and opportunities, we believe that through collaboration and innovation, we will continuously grow and always rise to any challenge. Thus, we bring you the following video as a snapshot of two intense days of debates on digital medicine and digital governance.
What is Cluj Innovation Days
Cluj Innovation Days (CID) is an annual event organized by Cluj IT Cluster aiming at consolidating the IT sector and creating new innovation based bridges among businesses, academia and the public sector. CID 2017 is the 5th edition of the conference and is addressing the topic of Digital Economy, one of the most pressing issues of our modern society. Spreading over two days, the conference program will include presentations and workshops designed to explore current trends, new approaches and innovative solutions in Digital Economy.
CloudWATCH2 agenda
CloudWATCH2 will attend the event with three of our representatives, Nicholas Ferguson, Trust-IT Services & CloudWATCH2 project coordinator; David Wallom,  Oxford eResearch Centre and Frank Sullivan, Strategic Blue.
CloudWATCH2 also facilitated the presence of George Ioannidis, Director at IN2  and of Andy Alic, Software Engineer at Universitat Politècnica de València and EUBra-BIGSEA H2020 project.
DAY 1 - Thursday, 30 March
14:30 - 15:00
KNS:Cloud Security
Mr. David Wallom, Oxford eResearch Centre, Oxford University
DAY 2 - Friday, 31 March
Track 1 – for the techies
BLUE Library room, ground floor
09:30 – 11:00
Cloud security.
Moderator: David Wallom (Oxford University).
Panelists: Radu Stefan (Microsoft), Gelu Vac (Crossover), Tudor Damian (Avaelgo)
Track 3 – for the social minded
ORANGE Library room, ground floor
09:30 – 11:00
Smart Cities and Communities.
Moderator: Paulina Mitrea (Cluj IT).
Panelists: David Walom (Oxford University), Andy S. Alic (Universidad Politecnica Valencia), Miklos Farkas (Printec Group), Daniel Homorodean (Arxia), Ovidiu Pintea (Optima), Cristian Ureche (ParkingPlus), Andrei Kovacs (Life is Hard)
Track 2 – for the business minded
GREEN Library room, ground floor
16:00 – 17:30
Digital Economy, the economy of trust.
Moderator: Dacian Dragos (UBB).
Panelists: Janneke Breeuwsma (Arthur's Legal), Cristiana Fernbach (Noerr Group), Frank Sullivan (Strategic Blue), Daniel Homorodean (Arxia).