Market Readiness Assessment of EC funded projects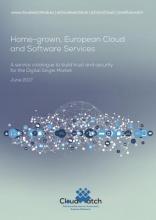 At this the fifth CloudWATCH Concertation meeting, we are delighted to present the second catalogue of offers for trusted and secure services from 54 ongoing projects under the Cloud and Software Unit of DG CONNECT.
The Digital Single Market (DSM) in Europe is an unprecedented opportunity to create one of the biggest digital marketplaces in the world, expected to have an immense impact on Europe's competitiveness and productivity across industrial and service sectors. Cloud computing and software technologies are key enablers across industry sectors, from retail and smart manufacturing to smart agriculture, as well as for Small and Medium Enterprises (SME), large companies and the public sector.
The catalogue demonstrates how European research priorities have adapted to a fast-moving and rapidly-growing market. H2020 Call 1 projects are now providing exploitable results ready for use by SMEs and public administrations in 2017-18. These forward-looking initiatives bring advanced cloud infrastructures and services with improved security, data protection, and quality of service in federated, heterogeneous and multi-layered cloud environments. In addition, new tools and methods for software development are now available to increase productivity in data-intensive systems and distributed applications, as well as tools for managing complex systems.
Looking ahead to 2019, newly-funded projects continue to deliver cloud and software services which are trusted and, with the General Data Protection Regulation fast approaching, secure. Cloud services look towards new paradigms of densely interconnected decentralised cloud infrastructures, with computing and network infrastructures which are tightly interconnected, while also providing robust, trustworthy and high-performance solutions for SMEs and public-sector organisations. From a software perspective, outputs will meet the need in cloud, IoT and big data for programming and modelling methods that facilitate the development of interconnected, flexible, reliable, secure and efficient software.
In addition, the catalogue showcases examples of international collaboration between Europe and Japan, and Europe and Brazil.
Trusted and interoperable services are essential for a thriving Digital Single Market. The exploitation of 'home grown' research and innovation is most timely with the need to remain competitive through technological excellence, sometimes against shrinking budgets, and in view of new opportunities presented by the European Digital Single Market. Projects though face several challenges when defining and implementing their exploitation plans. What they need is a clear understanding of the cloud market and the supply chains within it. Projects not only need to start planning early, but also plot their outputs as the project evolves from a technical viewpoint, making sure they also achieve the right market readiness level.
This catalogue showcases the wealth of expertise and project assets emerging from R&I efforts, and an example of projects stepping-up efforts to actually take results to market. It has been compiled by the CloudWATCH2 project and we'd like to thank all projects for providing their service offers.
Concertation Meeting in Numbers

Market Readiness Assessment of EC funded projects
Embedded within CloudWATCH2's mission to assess and promote EC projects' outputs and results, project partners University of Oxford and Strategic Blue joined efforts with Frank Bennett, iCloud & Cloud Industry Forum to take stock of project assets and potential avenues of commercialisation. The work undertaken in this effort took shape in the form of focused project assessments combined with desktop research and a mix of well-known and emerging business strategy methodologies, for instance business model canvases, value proposition canvases and technology adoption lifecycle.
Over the course of the last year, the team has assessed six EC funded projects (MUSA, CLOUDTEAMS, WAZIUP, CLARUS, EUBra-BIGSEA, COLA) that were all in different phases of their project lifecycle at the time of assessment. While some projects were near to closure with at times having barely more than six months "to go", others were at the height of their productivity and some just starting.
Consequently, the nature of the assessment as well as advice given to these projects were very diverse, though similarities across projects were frequent. For example, projects in later stages of their lifecycle were more interested in specific exploitation advice related to service operation, specific marketing activities, and engagement with different market stakeholders (e.g. visionaries and technology enthusiasts as early adopters in a market segment), etc. Projects at an earlier life stage appreciated suggestions on project execution and leadership and the assessor's input from horizon scanning outside of the project to consider external influences. 
However, across all six projects one suggestion stood out and was appreciated by all: To change the public narrative of the project, to shift it from an all too tempting focus on the project's problem space to the intended customer's problem space - while at the same time writing and talking about the same achievements.
This shift of attention was most aptly described by Frank Bennett during a Market Readiness assessment panel discussion, citing "There are many things 'we could' do with technology, however in a highly competitive market space, the question to ask is whether 'we should' do them." This acknowledges the commercial imperative to allocate resources based on an informed understanding of the market potential and is the raison d'etre of the methodology described here.
That statement resonated very well with an observation/statement made by James Mitchell of Strategic Blue when presenting the status of the cloud computing roadmap earlier at the same event: "Innovation for the sake of innovation is interesting... but pointless. Innovation needs to go to market."
Both observations share the underlying strong notion of *purpose*: What is the purpose of an innovation and, in the context of EC funded projects, what is the purpose of the project? In order to successfully bring innovation to market it is vital that project partners understand the end-purpose and the Value Proposition Canvas is used to do that.
This is illustrated by a misconception we found common in almost all assessed projects. While all projects were performing notably well with regards to their chosen technological path we found that projects projected the intended use of their innovation as the purpose of the customer's business - and describing this in a language that is different to that used by customers and other entrepreneurs. All assessed projects were familiar with the concept of Value Proposition Canvas, however the language had academic appeal and lacked an understanding of how a customer would apply the innovation in business scenarios in the language of the business' decision team. This had a knock-on effect on how customers' pains and gains were described, more from the viewpoint of the project's output than the value delivered in a business/organisational setting. 
In exercising our work we paid due respect to a project's need for confidentiality. Our work with projects is described as amicable and open while recognising there is undeniably a sense of competition and confidentiality was addressed under NDA regime. Any specific findings and suggestions are kept confidential unless the project decides to publicise them. 
A summary of the approach used in the CloudWATCH Technical and Market Level Training can be found here.