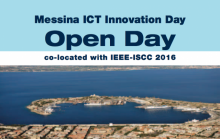 Event Date:
Monday, 27 June, 2016 - 08:30
Messina ICT Innovation Day - Open Day is a co-located event with the International Symposium of Computer and Communication Societies of IEEE (IEEE-ISCC 2016) where discussing Innovation Experiences of Entrepreneurs from Academia, Industry and SMEs.
According with the EU strategy for the Digital Single Market, ICT holds the key to driving new challenging markets and creating new job opportunities
The University of Messina is organising a conference to discuss and share ideas to understand how European companies can propose new solutions to EU Public Administration to create a new common digital framework.
In this environment, SMEs seem to be a driving force for innovation that can help PAs in adopting ICT services that better connect citizens and governments.
Silvana Muscella, CEO & founder of Trust-IT Services is invited to give a talk on the adoption of cloud services by SMEs & PAs: Making an EU SME's life easier with free online cloud services & tools.
Event Details
June 27th 2016 at 8.30 - 18.00
Università degli Studi di Messina
Aula Magna - Rettorato - Piazza Pugliatti 1 - Messina, Italy
Register here
Required Free of Charge Registration: http://goo.gl/forms/FjA9PWL9hAxGTxy42