SeaClouds – Seamless adaptive multi-cloud management of service-based applications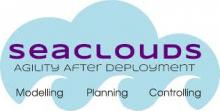 Focus: Giving organisations the capability of agility after deployment. SeaClouds deals with various aspects of the cloud development life-cycle, such as an open, generic and interoperable foundation to orchestrate parts of cloud-based applications. SeaClouds provides services to monitor, manage and migrate the underlying providers of both public and private clouds, leveraging service level agreement policies in order to guarantee the required performance and quality of service (QoS) on multi-cloud environments.
Coordinator: Atos, Spain
Partnership: University of Malaga, Spain; University of Pisa, Italy; Milan Polytechnic, Italy; CloudSoft Corporation Ltd, UK; NUROGAMES GmBH, Germany
Impact: Supporting the work of developers and application managers at different phases. In the design phase a new approach is based on the TOSCA specification, expressing how each component should interact with the others and a language to specify requirements (e.g. QoS). In the deployment phase, a searching tool across existing cloud offerings will enable a best match of a developer's requirements at design time alongside tools to deploy the application on selected cloud providers. In the run-time phase, SeaClouds will provide tools to monitor and analyse the performance of each component across different providers.
Funding: European Commission, DG Connect, Software & Services, Cloud, 7th Framework Programme, FP7-ICT Call 10.
Position Paper: http://www.cloudwatchhub.eu/concertation-position-papers/seaclouds-seamless-adaptive-multi-cloud-management-service-based
Website: www.seaclouds-project.eu