Shaping the future of software, services and cloud in Europe - Concertation Report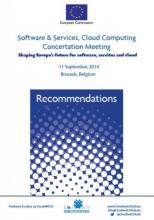 The value of the cloud lies in developing new applications and the agility that comes with that. Cloud computing provides speed to market for businesses. The future is being able to manage diverse platforms. Businesses should not be told that they have to move onto a certain platform. Businesses should be helped to make informed decisions on how to manage diverse platforms. Mobile and social networks are driving this change, drastically shortening the time it takes to develop applications.
These are just some of the considerations that emerged from the Software and Services, Cloud Computing Concertation meeting that was organised by CloudWATCH earlier this month. The Concertation report highlights the main recommendations that emerged from the meeting which saw project representatives from over 50 EC-funded projects explore themes for LEIT 2016-2017 Programme.
The report makes key recommendations in the research areas of cloud computing research, software engineering research and open source. It also underlines the importance of a move toward a more dynamic cloud which ensures dynamically managed, secure environments, flexible delivery models and interoperability through standards. The report also highlights how the next Work Programme should pave the way for greater adoption of cloud computing for SMEs in Europe.
Download the report: Shaping Europe's future for software, services and cloud