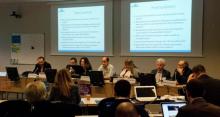 Event Date:
Wednesday, 10 September, 2014 - 18:00
DG CONNECT Building, Avenue de Beaulieu, 25, Brussels, Belgium
10 Sept 2014 - Networking Cocktail
11 Sept 2014 - Concertation Meeting
---
---
The next Software & Services, Cloud Computing will build upon collaboration and clustering of projects in order to provide vital contributions to the preparation of the H2020 LEIT ICT WP2016 -2017 in the area of cloud computing and software & services.
All projects are expected to provide a position paper which focuses on four main topics:
A relevant topic or topics suggested from within your consortia that should be addressed in the WP2016 -2017;
Your project's major results;
Your project's potential exploitation strategy;
Identify eventual start-ups or spin-off opportunities from your project.
The event will kick-off with a networking cocktail on the evening of 10 September to which all participants are encouraged to attend. The cocktail will include a 1-minute madness talk from project representatives covering the points above.
Registration details will be available soon on the cloudwatchhub.eu website. Please do save the date and consider who from your consortia should attend. Project end-users are encouraged to attend the event in order to provide key input for points 3 & 4.