Turning cloud research into innovative software & services - 3rd CloudWATCH Concertation Meeting Report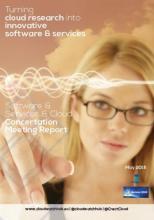 The third CloudWATCH Concertation meeting looked at future directions for software services and cloud in Europe, highlighting new opportunities for novel research and innovation to ensure Europe remains a world leader. The EC are investing heavily in research and innovation. There is a need for projects to push towards creating products and defining services with a mind to moving to market. The meeting took stock of how projects under Unit E2 Software, services and cloud computing are assessing potential go-to-market scenarios of their services including, user experience and potential barriers to uptake. It concluded with a call to action on the most pressing challenges for market uptake, defining practical steps that can be taken, which were: 
Projects are responding and adapting, but there is still work to be done in improving communication. In particular targeted messaging to potential markets and end-users should focus on services being delivered, benefits for end-users, with less technical speak and more plain English. This should come out more on project websites.
Projects contributed to the portfolio of offers for trusted and secure services. 72 service offers were published. For the next iteration, these need to talk more to potential end-users in a more market-oriented way.
A further call to action came from the European Commission encouraging clustering and convergence on common themes and challenges, and re-use of technologies between projects. Since the event four such clusters have been formed and objectives already set. The clusters focus on the following topics:
Software Engineering for Services and Applications
Inter-Cloud challenges, expectations and issues
Data protection, Security and Privacy in the Cloud
New Approaches for Infrastructure Services
In parallel to this, CloudWATCH is undertaking a quantitative clustering analysis of 55 cloud projects under Unit E2 in order to discover meaningful clusters based on the NIST's common defining characteristics of cloud computing. This will inform the process of deriving technical standards profiles for each of these projects. It can also form the basis for identifying other future project clusters.
Clustering projects has in the past proven to foster collaboration and improve results while reducing duplication of effort. With 32 projects funded under the first round of H2020 funding, these activities will need to be continuously updated. The quantitative clustering methodology being developed by CloudWATCH should make this easier.
Over 120 participants attended this the third CloudWATCH Concertation meeting which was co-located at the NetFutures 2015 conference . All Framework Programme 7 Call 8 and 10 projects participated as weel as 32 new projects funded under the first Horizon 2020 call.