Cloud computing at the forefront of the digital economy #DSM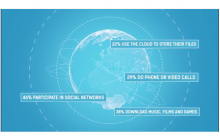 By Pearse O'Donohue, Head of Unit, Software & Services, Cloud
The potential for innovation and growth that cloud computing represents was a key factor in the Commission's thinking in preparing the Digital Single Market strategy. We are starting to prepare a European Cloud initiative, which will address a number of important issues to provide trust and confidence and to enhance cloud take-up, as well as another action ensuring the free-flow of data. To get these measures right, and to ensure that we let cloud providers and cloud service users give their input to this work, we will engage in a comprehensive and transparent consultation process over the coming months.
The recent evidence provided in the study on the "Uptake of Cloud in Europe" confirms the increasing adoption of cloud services in the EU by industry according to the size of their business and country of origin.  Furthermore, the research indicates that from 2015 to 2020 cloud computing can create 1 million new jobs in Europe.  This potential was a significant factor in the development of the Commission's strategy for a Digital Single Market, such that cloud has a prominent and visible role to enhance the digital economy.
With this more prominent role come more challenges.
We need Europe-wide solutions.  We need scale.  We need cross-border opportunities for business and citizens to make sure that Europe remains competitive with other major world economies.
In particular, we need to prevent economic loss from different national rules and practices, and we need to ensure that digital services and technologies can operate across national borders by ensuring a free flow of data.  We have to ensure that individuals and businesses can seamlessly access and use online services that are offered in a competitive environment and provide a high level of security and data protection.
Those issues of security and data protection are central to our plans – without them we will not build the trust and confidence in cross-border data services that is necessary for them to thrive.
continue at Digital Agenda for Europe Blog
related: Digital Agenda Scoreboard 2015
What do Europeans do online?
22% use the Cloud to store their files