SLAlom Cloud contract initiative ends with major step forward for Cloud industry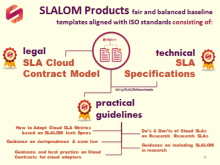 SLALOM, an initiative established to develop standardised Service Level Agreements (SLAs) and contract terms for Cloud services, has delivered its final version of its model contract terms. The development of its ready-to-use and practical reference models is a major step forward for the Cloud industry, promising to lower the barriers to entry for SME Cloud providers and make it easier for end users to safely migrate to the Cloud.
With support from the European Commission, the SLAlom initiative was launched in January 2015 by a group of consultants from global service provider Atos, legal specialist Bird and Bird, researchers from the National Technical University of Athens and University of Pireaeus, and the Cloud Industry Forum, an industry body championing transparency and trust of online services.
A number of key stakeholders at a European and international level organisations, including ISO (International Standardization Organization), have been part of the initiative, and after much discussion and a public consultation, SLAlom has published its recommendations and models. The three final products from SLAlom provide ready to use insights on Cloud Contracts and Service Level Agreements (SLAs).
SLA LEGAL CONTRACT MODEL & TECNICAL SPECIFICATIONS
The SLALOM SLA Legal Contract Model and the SLALOM SLA Technical Specifications relate to the legal reference model and the technical SLA metric specification, which serves as a baseline with our template documents considering ISO standards that address technical and legal aspects. Both have been designed to provide a starting point for new contracts, or can be used as a benchmark for comparing existing ones and, critically, it can be modified in line with the specific requirements of cloud service providers and end users.
To help the community, the project has also made available a number of guidance materials (http://slalom-project.eu/content/slalom-guidance-materials) which are intended to help taking a more practical approach by offering insights on how to adopt SLAlom outcomes.
The "DOs and DONTs of Cloud SLAs for Research" providing guidance of the best practice for Research community on Cloud SLAs, what to do, and what not to do, presented in a highly practical way.
SLAlom Deliverable D3.5 "Guidance on including SLALOM in research", provides the findings of the project for the research community. The intention is to take a critical view of the research community and feedback what has been learned into what will be done, thus shaping the future research agenda and habits.
The guide for "Cloud SLA Metrics Based on the SLALOM Specification and Reference Model v1" was created to demonstrate how to adopt the legal model and the technical specification, and make its adoption easier. This document provides specific proposals for cloud SLA metrics based on the SLAlom specification and reference model.
The "SLALOM report on Jurisprudence and case law" in which we illustrate how Cloud Computing contracts can be classified under EU Member countries law and how they can use standard models created by SLAlom to cope with them.
Various articles that were published in the Legal Experts Community Lexology, e.g "The standardization of cloud computing SLA and contractual terms: the SLALOM project".
On the providers side, the project has influenced a section within CIF Code of Practice that includes guidance and best practice of Cloud SLA and Contracts based on SLALOM.
At the time of writing this document, the adopters track is now working on a final document specifically intended to provide guidance and share the best practice for adopters.
All these materials are accessible for free at http://bit.ly/SLALOMDownloads.
Daniel Field, SLALOM Coordinator and Head of IT Sector, Atos Research and Development, commented:
"SLAlom has proven itself to be of value to the cloud computing market. Harmonising the 'behind the scenes' issues of the value chain leads to greater flexibility for users, resellers and aggregators, driving innovation. The reduced complexity and increased transparency will drive confidence in the market, and hence uptake. SLALOM has also demonstrated value in bringing together the research and commercial communities". Moreover, "Atos is proud of the achievements of the project and will play an active role in the efforts to further develop and promote the results", he concluded.
All its members have also committed to continue the work of this initiative in the future with the constitution of SLAlom Body, which has the objective to continue joint promotion within the Cloud ecosystem and continue with the evolution of SLAlom products to continue educating the cloud market, trying to reduce barriers and improve the cloud SLA market ecosystem with its practical, fair and balanced approach for Cloud SLAs, while being a support vehicle for individual members of the consortium in their individual exploitation intentions for SLAlom outcomes. Cloud, IT-related or legal companies; cloud adopters and cloud providers and any related group or association; and research institutions with interests on Cloud SLAs are welcome to participate in the initiative in the future as full members (http://slalom-project.eu/content/contact).
About SLALOM
The SLAlom initiative is backed and funded by the European Commission and the first stage is financed through the H2020 programme, running for 18 months with a budget of 700,000 Euros, under grant agreement No 644270. 
To find out more about SLALOM:
Project contact:
Daniel Field - Project Coordinator
eMail: daniel.field@atos.net